Hip dysplasia is a common health concern among Chesapeake Bay Retrievers, a popular breed of sporting dogs. This article aims to provide a comprehensive overview of hip dysplasia in Chesapeake Bay Retrievers, including its causes, symptoms, diagnosis, prevention, and treatment options.
What is Hip Dysplasia?
Hip dysplasia is a developmental condition that affects the hip joints. It occurs when the ball and socket of the hip joint do not fit together properly, leading to abnormal wear and tear, inflammation, and pain. In Chesapeake Bay Retrievers, as well as in many other large and medium-sized dog breeds, hip dysplasia is a frequently encountered orthopedic issue.
Causes of Hip Dysplasia in Chesapeake Bay Retrievers
The development of hip dysplasia in Chesapeake Bay Retrievers is influenced by both genetic and environmental factors. While the precise cause of the condition remains unclear, several contributing factors have been identified:
Genetics: Hip dysplasia can be inherited, and certain breeding lines may carry a higher risk for this condition. Responsible breeders perform hip evaluations on their breeding dogs to minimize the prevalence of hip dysplasia in future generations.
Growth Rate and Nutrition: Rapid growth and improper nutrition during the puppy stage can contribute to the development of hip dysplasia. Overfeeding, especially with diets high in calories, protein, and calcium, can accelerate the growth rate, putting excessive stress on the developing hip joints.
Exercise and Activity Levels: Excessive or inappropriate exercise during the puppy stage can potentially harm the developing hips. Activities that involve jumping, running on slippery surfaces, or excessive stair climbing should be avoided.
Weight Management: Obesity or excessive weight gain places additional strain on the hip joints, increasing the risk of hip dysplasia. Maintaining a healthy weight through proper diet and regular exercise is crucial for preventing this condition.
Symptoms and Diagnosis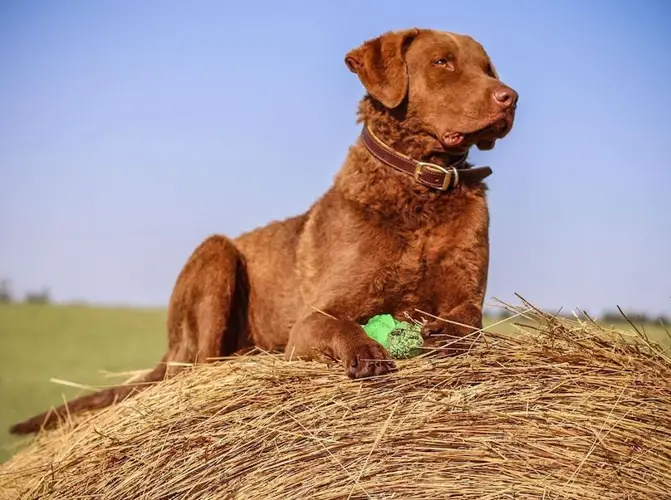 The symptoms of hip dysplasia in Chesapeake Bay Retrievers can vary in severity and may include:
Difficulty or reluctance to move, especially after periods of rest.
Stiffness and decreased range of motion in the hips.
Lameness or limping, particularly noticeable after physical activity.
Muscle atrophy in the hind legs due to lack of use.
Audible clicking or grinding sound when moving the hips.
A veterinarian with experience in orthopedics will perform a thorough physical examination of your Chesapeake Bay Retriever and may recommend additional diagnostic tests, such as X-rays or hip scoring, to confirm the presence and severity of hip dysplasia.
Prevention Strategies for Hip Dysplasia
While it may not be possible to completely eliminate the risk of hip dysplasia in Chesapeake Bay Retrievers, there are preventive measures that can help reduce the likelihood and severity of the condition:
Choose Responsible Breeders: When acquiring a Chesapeake Bay Retriever, select a reputable breeder who conducts hip evaluations on their breeding stock.
Optimal Nutrition: Feed a balanced diet suitable for large-breed puppies to ensure proper growth and bone development. Consult with your veterinarian for specific dietary recommendations.
Controlled Exercise: Avoid rigorous exercise during the puppy stage and offer controlled activities that promote muscle building without putting excessive stress on the hips.
Weight Management: Maintain an ideal body weight for your Chesapeake Bay Retriever through portion control and regular exercise. Obesity increases the risk of hip dysplasia and exacerbates its symptoms.
Treatment Options for Hip Dysplasia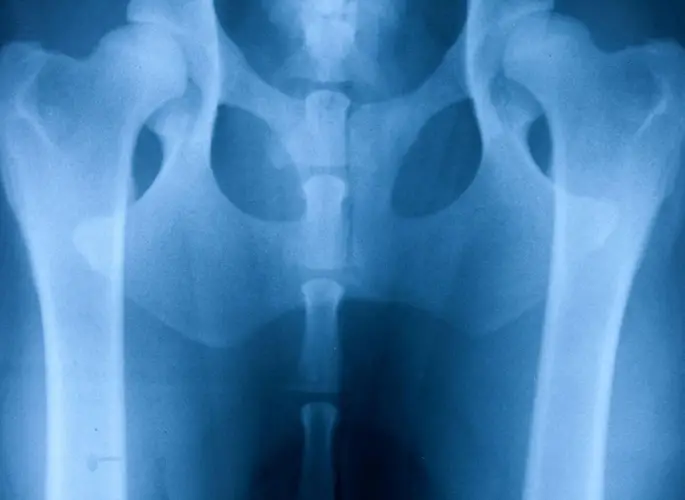 If your Chesapeake Bay Retriever is diagnosed with hip dysplasia, there are several treatment options available:
Conservative Management: This approach focuses on managing the symptoms through weight control, exercise modification, physical therapy, and pain management medications. It is most effective in mild cases or for dogs who are not suitable candidates for surgery.
Surgical Interventions: In severe cases of hip dysplasia, surgical options may be recommended. These include total hip replacement, femoral head ostectomy (FHO), and pelvic osteotomy. Each procedure aims to improve joint function and reduce pain.
Complementary Therapies: Alongside veterinary treatments, complementary therapies such as acupuncture, hydrotherapy, and chiropractic care can provide additional relief and support for dogs with hip dysplasia.
Conclusion
Hip dysplasia is a prevalent concern among Chesapeake Bay Retrievers, but with proper understanding, prevention strategies, and appropriate treatment options, it is possible to manage this condition effectively. By working closely with your veterinarian, choosing responsible breeders, providing optimal nutrition, and controlling exercise and weight, you can help ensure the well-being and quality of life for your Chesapeake Bay Retriever.